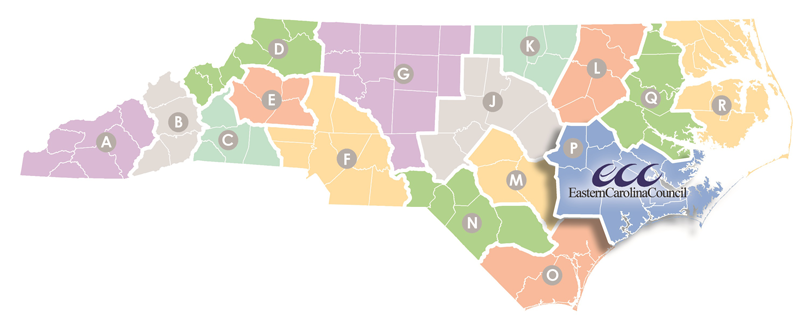 The Eastern Carolina Council (ECC) a multi-county, local government, planning and development organization.  We are one of sixteen councils of government in NC.  These councils are forums where local officials determine priorities for the larger area in which their communities are an integral part.  ECC serves a region with a land mass of 5,710 square miles and a population of over 652,000 in the region's nine counties (Carteret, Craven, Duplin, Green, Jones, Lenoir, Onslow, Pamlico and Wayne).  ECC is a conduit between local governments in our region and state/federal partners.  ECC's Area Agency on Aging Department plans and administers a variety of federal, state, and local programs and services primarily targeted at supporting aging adults and their caregivers.  ECC's Planning and Economic Development Department provides professional planning, economic, and community development services to member governments and partners at the local and regional levels.  We provide technical assistance to local governments and administer projects and programs which benefit our region's citizens.
Mission Statement: The Eastern Carolina Council's mission is to improve the region's quality of life by providing planning, economic development and senior services to local governments and area residents by maximizing resources and collaborating regionally.
Vision Statement: Eastern Carolina Council's vision is to be the recognized resource leading and engaging local governments, citizens, and stakeholders in an innovative collaborative manner to meet changing needs while enhancing and promoting a vibrant region.
Directions:
233 Middle Street, New Bern, NC 28563
Phone: (252) 638-3185 Ext.: 3001
On Highway 70:
Take the 70 Business exit, 417 A, into downtown New Bern. Go over the Trent River Bridge. Take the first left to South Front Street (at the Riverfront Convention Center). Go three streets and turn right on Hancock (RR tracks run down the middle of the street—watch for trains!). We are in the OMarks building (big sign vertically on side of the building). The post office is on the first floor, so if you get lost—just ask were the downtown post office is.
On Highway 17:
Continue on Highway 17 to the junction of Business 70 (at the Highway 70 overpass Highway 17 turns off - You Don't). Keep straight and follow Business 70 into the downtown area. At the traffic light where the railroad tracks cross the street, turn right (watch for trains! It is the corner of Broad and Hancock Streets). In middle of the second block on the left is the OMarks building (big sign vertically on side of the building). The post office is on the first floor, so if you get lost ask, "Where is the downtown post office?"