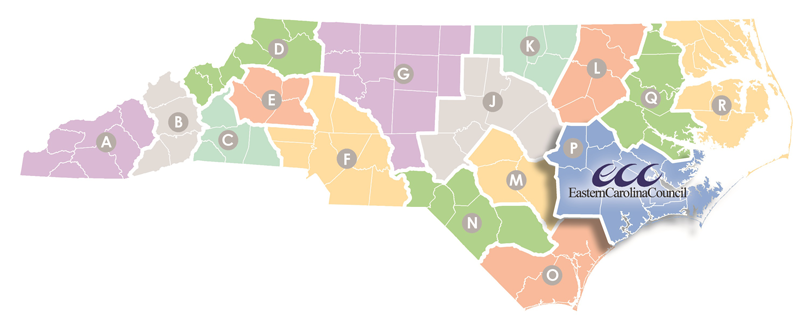 The Eastern Carolina Council is one of sixteen multi-county planning and development regions in the State. Regional Councils are governed by local public and private sector appointments. These Councils are forums where local officials determine priorities for the larger area in which their communities are an integral part. It has a land mass of 5,710 square miles and a population of over 645,000 in the region's nine counties (Carteret, Craven, Duplin, Greene, Jones, Lenoir, Onslow, Pamlico, and Wayne).
Mission Statement: The Eastern Carolina Council's mission is to improve the region's quality of life by providing planning, economic development and senior services to local governments and area residents by maximizing resources and collaborating regionally.
Directions:
233 Middle Street, New Bern, NC 28563
Phone: (252) 638-3185 Ext.: 3001
On Highway 70:
Take the 70 Business exit, 417 A, into downtown New Bern. Go over the Trent River Bridge. Take the first left to South Front Street (at the Riverfront Convention Center). Go three streets and turn right on Hancock (RR tracks run down the middle of the street—watch for trains!). We are in the OMarks building (big sign vertically on side of the building). The post office is on the first floor, so if you get lost—just ask were the downtown post office is.
On Highway 17:
Continue on Highway 17 to the junction of Business 70 (at the Highway 70 overpass Highway 17 turns off - You Don't). Keep straight and follow Business 70 into the downtown area. At the traffic light where the railroad tracks cross the street, turn right (watch for trains! It is the corner of Broad and Hancock Streets). In middle of the second block on the left is the OMarks building (big sign vertically on side of the building). The post office is on the first floor, so if you get lost ask, "Where is the downtown post office?"