About
The Down East Rural Transportation Planning Organization (DERPO) serves all of Carteret, Jones, and Pamlico Counties, as well as a portion of Craven County. Rural Planning Organizations (RPOs) were formed to allocate transportation dollars more effectively to rural areas and engage the public in the transportation planning process. DERPO was created in 2002 by a Memorandum of Understanding between the aforementioned counties (as well as Onslow County, which is no longer a part of DERPO) and the Neuse River Council of Governments (now the Eastern Carolina Council). The Eastern Carolina Council serves as the Lead Planning Agency (LPA) for DERPO and provides administrative staff for the organization. DERPO is one of eighteen such organizations in the state.
RPO Goals and Duties
Develop long-range local and regional transportation plans (highways, railways, aviation, and ferries) in cooperation with other area planning organizations and the North Carolina Department of Transportation (NCDOT).
Provide a forum for public participation in the rural transportation planning process.
Develop and prioritize transportation projects which the RPO believes should be included in the State Transportation Improvement Program (STIP).
Provide transportation-related information to local governments and other interested organizations and persons.
Conduct transportation-related studies and surveys for local governments and other interested entities/organizations.
Mission Statement
The Down East Rural Planning Organization exists to serve as an intergovernmental organization for local elected officials, the North Carolina Department of Transportation, and residents of its four-county region to work cooperatively to address transportation issues and to develop long-range local and regional multi-modal transportation plans to sustain and improve the quality of life for residents of the region and throughout the State of North Carolina.
Committees
DERPO is governed by a Transportation Advisory Committee (TAC) made up of elected officials from member counties and municipalities, as well as the local member of the North Carolina Board of Transportation. There is also a Technical Coordinating Committee (TCC), made up of staff from local governments, transit systems, airports, and NCDOT. The TCC provides technical recommendations to the TAC. The TAC typically meets bi-monthly on the last Tuesday of the month at 10 am at the ECC offices in New Bern. The TCC typically meets on the penultimate Tuesday, also at 10 am, and is currently conducting hybrid meetings: in person at the ECC offices, as well as virtually.
NEXT DERPO TCC MEETING:
January 23, 2024, 10 am - Main Conference Room, ECC Offices (233 Middle St. Suite 300, New Bern)*
NEXT DERPO TAC MEETING:
January 30, 2024, 10 am - Main Conference Room, ECC Offices (233 Middle St. Suite 300, New Bern)*
*subject to change; a virtual link will be available via Zoom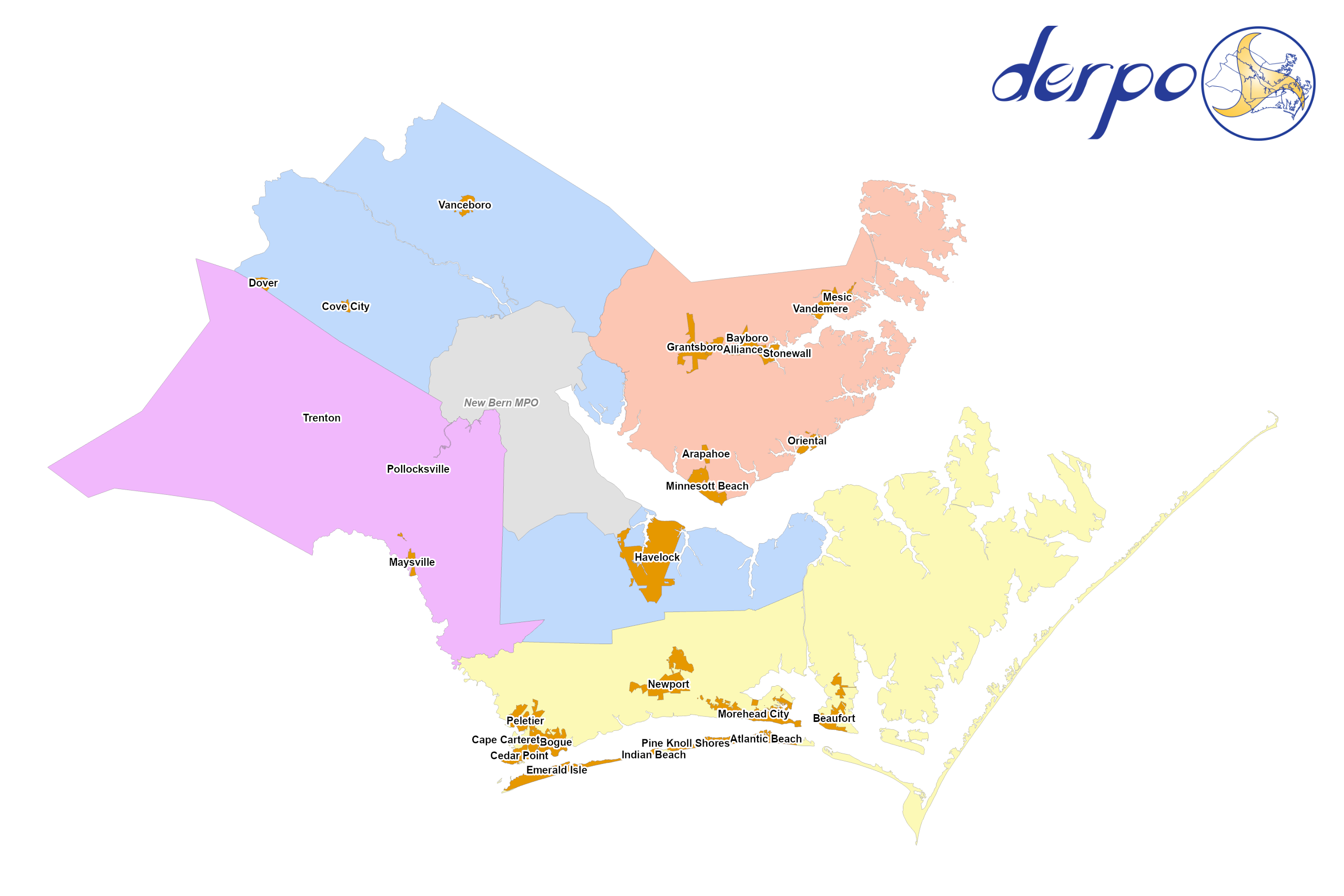 CONTACT
Becca Eversole
Director, Down East Rural Planning Organization
(252) 638-3185 ext. 3031 (office)
(252) 229-4332 (cell)