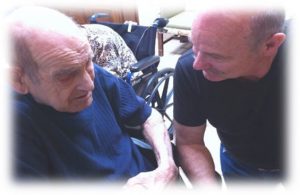 November 2020
National Family Caregivers Month
National Family Caregivers Month is a time to recognize and horror family caregivers across the country. Each day, courageous individuals step forward to help and care for a family member in need. Their selflessness and sacrifice that they give every minute, every day to their loved one shows devotion and strength. Many family caregivers provide services to people in need to include meal preparation, shopping, finance management, transportation, personal need assistance, and companionship.
According to a study conducted in 2020 by AARP (2020 survey: https://www.caregiving.org/caregiving-in-the-us-2020/ ) there are more than one in five Americans providing unpaid care to an adult with health or functional needs. This is a total estimate of fifty-three million adults in the United States. In light of COVID-19, caregivers are in need of community support more than ever. They are faced with challenging times, isolation, decreased care availability, increased concerns for their loved ones, and most of all loneliness. Eastern Carolina Council Area Agency on Aging challenges you to reach out to a caregiver in your community today. Take time to thank a caregiver for their dedication and care of our loved ones. Let them know with kind words of encouragement and an open hand how much they mean to you and that they are not alone.
Top 10 Tips for Family Caregivers
Seek Support and know when to ask for help. You are not alone and attending a support group or visiting with a counselor can help you get through each day.
Take care of your own health so you can be strong to take care of your loved one. Your health is just as important.
Learn how to communicate effectively with health care professionals and doctors. Know patient and caregiver rights in health care.
Be open to new technologies that can help you in caring for you loved one.
Watch out for signs of depression and don't delay getting professional help if needed.
Caregiving is hard work so take respite breaks often.
Organize medical information so that it is up to date and easy to find.
Make sure all legal documents are in order.
Give yourself credit for doing the best you can in one of the toughest jobs there is!
Take care to give care.
We are here for you to help you through your caregiving journey and to help you take care to give care. For further information in regard to local resources, support, services, and information contact Eastern Carolina Council Area Agency on Aging