WHAT IS ADVOCACY?

"Advocacy encompasses any activity that a person or group of people undertake to influence policies."
Advocacy is a process by individuals or groups which aims to influence public policy and resource allocation decisions within political, economic and social systems and institutions. It may be motivated from moral, ethical, social, or faith principles. Advocacy can include many activities that a person or group undertakes including media campaigns, public speaking, local surveys, and forums to allow persons to solicit civic engagement and promote action.
As the population of older adults continue to grow the needs become greater in service availability, support systems such as Guardianship and caregiver information, and health care including hospital re-admissions, just to name a few.
Do you want to become an advocate for older adults, but you need help making that first step? The National Association for Area Agencies on Aging has a handbook that will help!  N4A Advocacy Handbook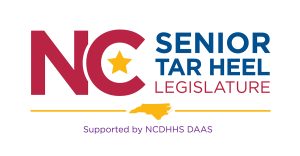 NC Senior Tar Heel Legislature
Provide information to senior citizens on the legislative process and matters being considered by the North Carolina General Assembly.
Promote citizen involvement and advocacy concerning aging issues before the North Carolina General Assembly.
Assess the legislative needs of older citizens by convening a forum modeled after the North Carolina General Assembly.
There is one delegate to the Senior Tar Heel Legislature from each of the 100 counties in the state. Most counties also have an alternate delegate. Delegates and alternates must be age 60 or older.